Stand-alone automation and remote control system for managing hydraulic components
(Consortium monitoring, automation and remote control system equipped with WinNET7 management and display system complete with integrated specialised alarm and software packages)
Supply: 2013/2016
Region: Friuli Venezia Giulia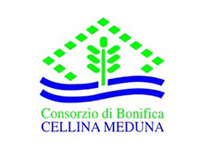 Challenge
Execution of a stand-alone monitoring, remote control and automation system able to automatically manage, monitor and manage hydraulic components.
Why ETG
The wealth of experience that ETG has acquired in the weather instrumentation sector and in real-time monitoring data acquisition, archiving, processing and circulation makes it a valuable collaborator.
Introduction
The monitoring, automation and remote control system in question consists of over 170 stations communicating through an SHN ("Super High Frequency") regional radio backbone with redundancy from a provincial UHF ("Ultra High Frequency") radio network made up of 17 repeaters. The monitoring stations communicate through the radio network with a control centre on which the ETG platform - called WinNET7 - was installed and that is equipped with specialised packages, the main ones of which are: Video Package, Alarm Package, Hydraulic Package and Water Package. The system is therefore totally integrated and can be used from any mobile or landline device connected to the Internet. Furthermore, special alarms agreed upon with the customer were configured on these devices. They are necessary for notifying malfunctions on the monitored system or considerably important situations such as going past a hydrometric threshold or pressure in the pipes.
The solution
The system, made up of the elements described above, is able to monitor weather and hydrologic parameters and to control the system and its hydraulic and mechanical components remotely. The system is made up of:
66 Hydraulic Adjustment Points
9 Hydroelectric Power Plants
4 Delivery Units
21 Pumping Plants
6 Photovoltaic Systems
13 Weather Stations
The benefits
The system described was able to provide continuous monitoring of water quality parameters in particularly delicate situations, where a very high sensitivity of the sensors used is necessary. Thanks to the solution and technical quality of the products ETG installed, the system was able to acquire the data with a 100% Quality Level (QL) starting from the very moment the stations were installed. This proves to be essential because the positioning of the water quality sensors is particularly problematic, demanding intervention time and procedures not at all negligible.



Conclusion
Every new monitoring system engineered by ETG entails peculiarities that can be solved only by those - like our company - that have been working in the sector for years. The system built for Acquedotto Pugliese led to a clash with a particularly delicate condition owing to the need for sensors having a very high level of accuracy and for their positioning, namely in the spring. In view of these particular conditions, ETG had to implement some specific strategies and choose sensors such as to be able to best counter this particular case.