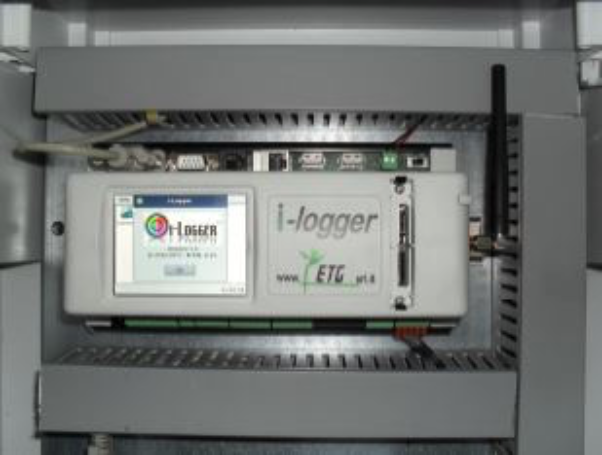 What is and what is used for
Logger is an automatic electronic control unit designed and built according to the principles of the WMO (World Meteorological Organization), certified based on the current CE rules for electromagnetic emissions conducted and irradiated in a residential environment. The iLogger platform is highly modular; it has a gateway card in its minimum configuration to which up to 16 expansion cards at the most can be connected.
Construction
Backed by its more than 25 years of experience in the field of environmental monitoring, ETG has developed a new control unit specially studied for environmental monitoring, remote control and alert stations. Its engineering and the protocols used make it an open and at the same time flexible and modular solution.
Main features
Multi-card and multiprocessor structure: based on 5-wire ISSnet bus and 400 MHz CPU.
Low consumption: owing to its engineering, absorbed power <1W @ 12 Vdc.
Sturdy and reliable construction: lastly makes it an instrument with a long lifetime, which safeguards the customer's investment.
Integrated transmission system: iLogger integrates a GSM/GPRS modem inside of it.
Additional features: iLogger has a 3.5" touchscreen colour touchscreen graphic display, an on-board Apache WEB Server and a removable 4 GB micro-SD memory card.
Open Operating System: iLogger follows the complete opening policy by using an open embedded GNU/Linux operating system on board.
Components that can be added or be built into the product: the datalogger in question can be integrated with expansion modules so that the control unit's inputs and outputs can be expanded almost limitlessly.
I-TLM: expansion card able to acquire and process up to 8 single-ended analogue inputs or 4 differential inputs. Measurement chain made with with PGA variable gain amplifier. The card has a 16 bit AD converter.
i-TLS: expansion card able to manage up to 16 galvanically isolated remote signals with isolation voltage 2.5kV.
i-TLC: expansion card equipped with 250V 5A clean contact relay outputs. The relays are double exchange to allow the microprocessor to reread the contact.
i-HRF: is the most innovative remote control card that allows wireless monitoring systems to be built with free band radio communication to the datalogger of reference.