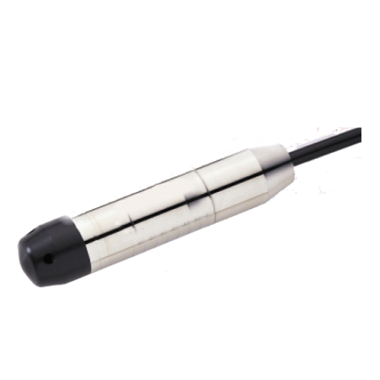 What is and what is used for
The pressure exercised by a liquid is proportionate to its height, and in this way it is possible to determine its level by measuring the pressure. The resistance and compatibility with the fluids of the various components, type of material the instrument case, seals and electrical cable are made of are essential in this application.
Construction
Immersion probes are often used in measuring level. These probes are made up of a perfectly fluid-sealed sensitive part and an electrical cable that transmits the signal outside the immersion zone.
Main features
Complete customisation: the sensor in question can be supplied with customised precisions, flow rate, cable length and case material; for example, it can be made in materials particularly resistant to corrosive agents for marine applications.
Easy maintenance:the sensor in question, normally housed inside surge pipes, can be easily maintained and is easy to safely recover out of the water.
Sturdy and reliable construction: lastly makes it an instrument with a long lifetime, which safeguards the customer's investment. The instrument does not drift due to aging and requires no periodic calibrations
Components that can be added or be built into the product: in the case of installations greater than 30 m, it is recommended to purchase the accessory hook for recovering the probe; this hook allows the stress of the precious compensated cable due to its own weight to be prevented.