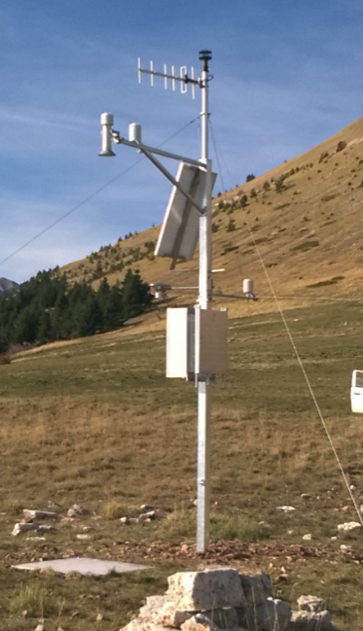 What is and what is used for
The sensor measures the height of the snow by taking a measurement of the distance of the snow from the sensor case and then subtracts the value found from the zero value place at the level of the base on which the snow deposits. The sensor, managed by a microprocessor control unit, supplies a digital signal lasting a time proportionate to the distance measured in output and is immediately interfaceable with the corresponding datalogger input channel. Heating resistors prevent ice from forming on the reference rod and on the sensor case.
Construction
The snow gauge sensor engineering to measure the height of the snow blanket was designed for continuous operation outdoors. The target beneath the sensor must be kept free of rocks and various obstacles that might invalidate its measurement.
Main features
Correction algorithm: the sensor integrates electronics able to compensate the effects that changes in temperature and atmospheric pressure can have on the level measurement. This is achieved by making use of another sensor, this time a temperature sensor, integrated inside the measuring device.
Easy maintenance: the benefits that our pluviometric sensor offers are not limited to precision, but also include simple and quick maintenance due to the engineering of the sensor that simplifies the phases.
Sturdy and reliable construction: lastly makes it an instrument with a long lifetime, which safeguards the customer's investment.
Components that can be added or be built into the product: the sensor in question can be combined with any datalogger and can be integrated with any sensor on the market.