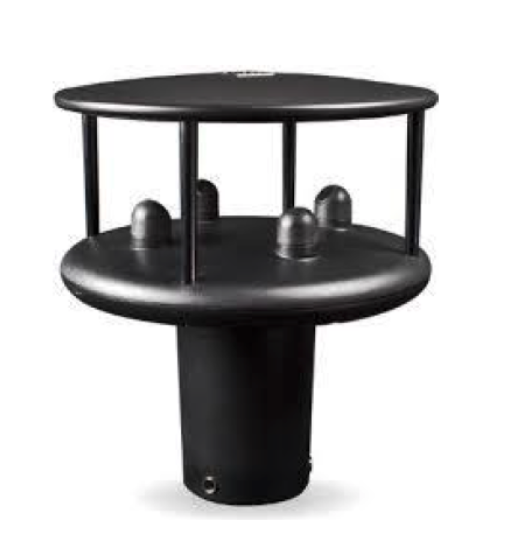 What is and what is used for
Since it has no moving parts, WSG is ideal for use in adverse weather conditions. It is a 2-axis ultrasonic wind sensor able to provide wind velocity and direction data through one serial output or two analogue outputs. In order to confirm proper operation, the outputs of the sensor are jointly transmitted to a string with an instrumentation operating status code.
Construction
The WSG gonioanemometric transducer is an ultrasonic wind sensor without moving parts. It is distinguished by its sturdiness and low cost. This 2-axis ultrasonic wind sensor requires no maintenance, a factor that makes it a veritable low-cost alternative to the traditional sensors equipped with vanes or propellers, with all the benefits of ultrasound technology.
Main features
Construction materials: this sensor is designed with a corrosion-proof polycarbonate structure that makes it very lightweight and easy to transport. With a true solid-state construction, WSG can be used in harsh environmental conditions without fear of damages often associated with cup or propeller sensors. WSG is suitable for a wide range of wind monitoring applications and is particularly appropriate for marine and offshore use (ships, buoys, beacons), as well as for land installations. With its exterior made of corrosion-proof material and with no moving parts, this ultrasonic wind sensor eliminates the need for costly on-site maintenance, especially in remote and hard to access stations.
Easy maintenance: owing to its measurement principle that requires no moving mechanical parts, a Sonic Anemometric sensor is less subject to malfunctions and the replacement of components than its mechanical competitors.
Sturdy and reliable construction: lastly makes it an instrument with a long lifetime, which safeguards the customer's investment. The instrument does not drift due to aging and requires no periodic calibrations.
Components that can be added or be built into the product: none.