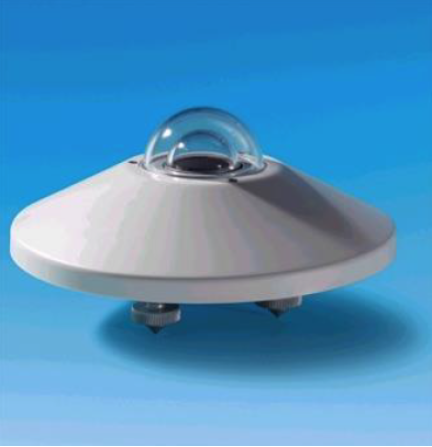 What is and what is used for
The pyranometers measure the global solar radiation in the spectrum range 0.3μm ÷ 3μm. Powered externally, it is equipped with a two-wire connection with 4-20 mA current output. The CM6B pyranometer is based on a thermopile sensor. The sensitive surface of the thermopile is covered with matt black paint so that the pyranometre is not selective to the various wave lengths. The spectrum range of the pyramometre is determined by the transmission of the two K5 type glass domes. The radiating energy is absorbed by the blackened surface of the thermopile, thus creating a difference in temperature between the centre of the thermopile (hot joint) and the body of the pyranometer (cold joint). The difference in temperature between hot joint and cold joint is converted into a difference in potential owing to the Seebeck effect.
Construction
Class 1 pyranometer for measuring the efficiency of photovoltaic systems. Typical uses: atmospheric research, meteorological stations, climatology, farming, research in the energy savings sector.
Main features
Accessories included: the sensor is supplied complete with support, cartridge for the silicagel crystals, 2 charges in addition to the 2-metre-long 4-pole cable with 4-pole M12 connector on one side and open wires on the other
Easy maintenance: the sensor in question, normally housed inside surge pipes, can be easily maintained and is easy to safely recover out of the water.
Sturdy and reliable construction: the Class 1 pyranometers are sturdy, reliable instruments built to withstand adverse weather conditions and are suitable for installations in the field.
Components that can be added or be built into the product: none.