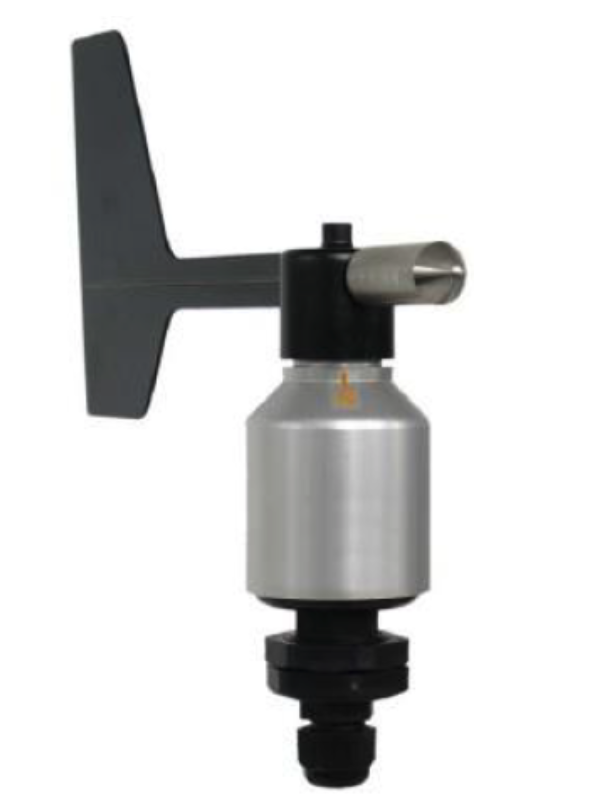 What is and what is used for
The axis of the weather vane moves on a set of ball bearings and is equipped with a magnet on one of the two ends. The relative angle of the weather vane is scanned by a contactless angular magnet sensor that returns a voltage depending on the relative position between magnet and sensor. From here a microcontroller calculates the direction of the wind, linearising the ratio between angle and output current.
Construction
The WDA gonioanemometric transducer is designed to acquire the direction of the horizontal component of wind, and returns an analogue electrical output proportionate to the measured value.
Main features
Construction materials: the external parts of the instrument are made up of corrosion-proof materials (aluminium, plastic, stainless steel); the aluminium parts are further protected by an anodising process. Labyrinth sealing further protects the sensitive parts against humidity.
Easy maintenance: the benefits that our anemometric sensor offers are not limited to precision, but also include quick and easy maintenance. Following installation according to specifications, the maintenance activities consist only of a periodic check of the sensor to ensure it is clean without any deposited grime.
Sturdy and reliable construction: lastly makes it an instrument with a long lifetime, which safeguards the customer's investment. The instrument does not drift due to aging and requires no periodic calibrations.
Components that can be added or be built into the product: if the instrument is installed where ice may form, a 15W heater sleeve powered at 24 VAC can be installed on the instrument case.